Double Patriot®
With a top single line payout of 10,000 credits, players will stand and salute Double Patriot®, the 3-reel mechanical game from Everi Games. When one Double Patriot symbol lands in a winning combination containing 7's or Bars, players win 2X the prize value. Two Double Patriot symbols increase the winnings 4X the total bet. If 3 Double Patriot symbols appear on the payline, the player is paid the highest line win combination. Ol' glory will by flying high for players who like the traditional look and feel of a classic slot machine.
GAME OVERVIEW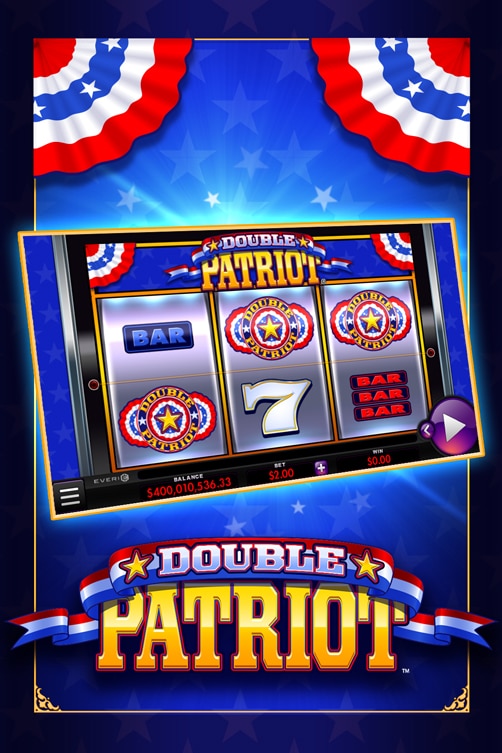 Game Type: Stepper
Class Availability: Class III
Reels: 3
Lines: 1
Available Denoms: Configurable
Volatility: 3
GAME DOCUMENTS
Game documents are available for registered users.
Please
request an account
or
login
.
All efforts have been made to ensure these figures are accurate and correct, however Everi Games cannot accept responsibility for the absolute accuracy of the final figures. Everi Games cannot accept responsibility for the absolute accuracy of these volatility rating estimates. Volatility rating estimates, artwork, descriptions, game play, and other product details depicted above are subject to change. Italicized text indicates trademarks or registered trademarks of Everi Games and/or its affiliates in the US and/or other countries. Additional conditions apply. Everi Games reserves the right to amend or discontinue this offer at any time. AVAILABILITY OF ALL OPTIONS IS SUBJECT TO SPECIFIC JURISDICTIONAL APPROVAL.
©2020 Everi Games Inc. All rights reserved.