ATM & Kiosks
ATMs & Kiosks offer your patrons quick and secure access to their funds, boasting innovative features that help maximize funds to your floor. With our comprehensive portfolio of ATM and cash access solutions that meet Europay, Mastercard, and Visa (EMV) requirements, your patrons will enjoy frictionless and premium user experience.
From our fully integrated kiosks that feature multiple ticket redemption and powerful marketing peripherals, to our innovative combination of hardware and software that provides alternate cash access options, you can count on Everi's self-service solutions to deliver optimal performance and reliability to the casino floor.
ATM
Everi's ATM functionality, available through standalone ATMs or integrated with Everi's full service kiosks, is designed to increase cash to the gaming floor. Real-time monitoring tools and remote diagnostics provide greater uptime with quicker response and resolve times. Everi ATM functionality supports three distinct types of transactions: ATM withdrawals, POS debit, and credit card cash advance.
Everi is proud to have the only ATM that allows patrons to convert an unsuccessful ATM withdrawal to a credit card cash advance or a POS debit card transaction without having to remove and reinsert their card. Everi is also the exclusive provider of non-PIN, signature credit card cash advance services to American Express card members. With American Express acceptance, you will enjoy greater spend potential and give patrons a consistent payment experience across your gaming and non-gaming retail footprint.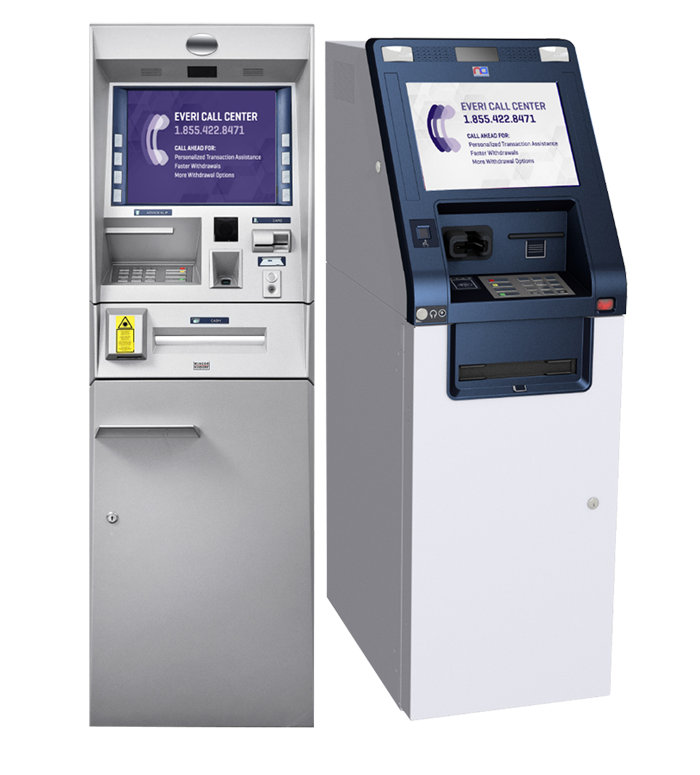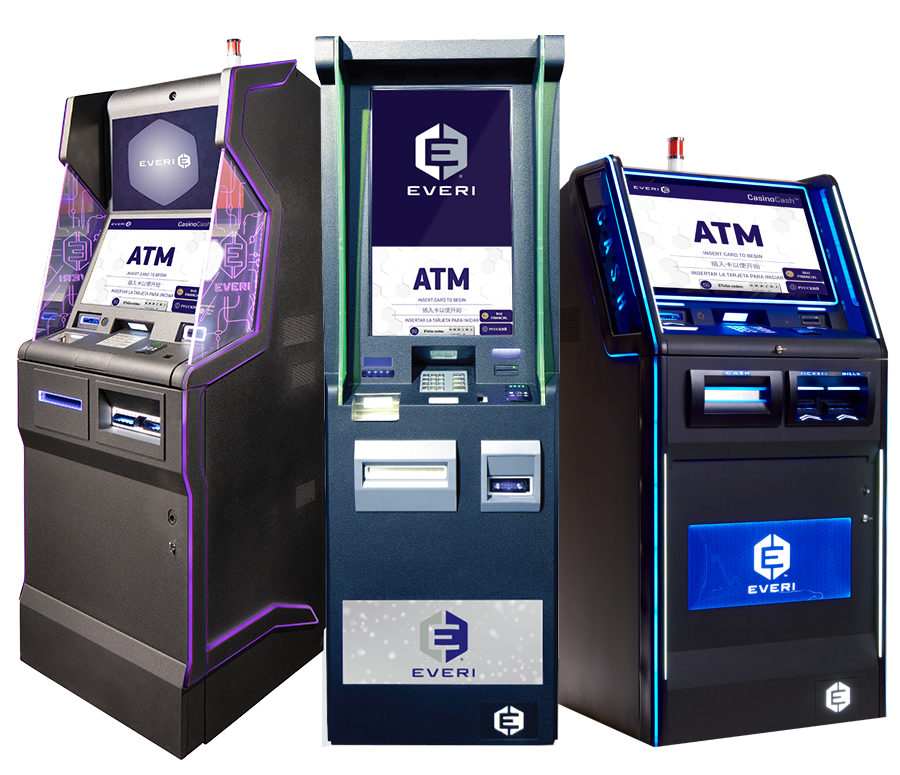 CXC
CXC 5.0 | 5.0L | 5.0S
These sleek, modern, and high visibility full-service devices offer state-of-the-art privacy features to ensure the most secure transactions and additional realty for in-casino marketing content. Designed for smaller volume properties, the CXC 5.0 L has similar services as the CXC 5.0 in a smaller footprint. 
 
With full integration with other Everi FinTech products, such as CashClub DCCA/CCCA, Everi Compliance®, and the robust CashClub Wallet® with touchless $ToGo functionality, these new kiosks give properties an opportunity to move cage-based transactions to the casino floor while still providing traditional functionality like ATM, ticket redemption and bill breaking.  Everi's Kiosks continue to provide traditional functionality like ATM, ticket redemption, bill break and currency exchange as well as the addition of new features such as QuikTicket™, access to crypto asset value and Visa quick deposit of gaming tickets back to US bank accounts.
CXC
CXC 4.0 & 4.0L
Everi's more traditional CXC 4.0 is a full-service kiosk that offers a tried and true foundation for powerful marketing peripherals, multiple TITO interfaces, two screens, and two bill acceptors. The CXC 4.0 gives patrons many features, including an intuitive interface, the ability for multiple ticket redemption, and access to Everi's patented 3-in-1 Rollover™ technology. Now patrons easily can turn an unsuccessful ATM transaction into a credit card advance or a POS debit card transaction.
The CXC 4.0 L is Everi's smaller footprint, multifunction kiosk available at a lower price point. The CXC 4.0 L features an intuitive interface, the ability for multiple ticket redemption, easy bill breaking, and access to Everi's patented 3-in-1 Rollover™ technology. Now patrons easily can turn an unsuccessful ATM transaction into a credit card advance or a POS debit card transaction. This kiosk has a single monitor and a single bill acceptor.
Prelude Series
The sleek ergonomic design delivers a consistently and reliable experience, yet it's flexible enough to adapted to changing business needs and customer demands. Using multi-touch technology, the larger screens are ideal for self-service functions as well as an attractive advertising space or as a touch point for patron interactions.
Built for 24/7 operation, the Prelude kiosk offers flexible configuration options, making it the perfect kiosk for businesses that require tailored solutions.
Install it as a stand-alone kiosk or in a back-to-back format
Mount it on a stainless steel pole or on a wall
Design the interaction area with only the components your consumers need
The Prelude Series is a strategic solution that delivers results and fulfills operational requirements and business demands while delivering the perfect consumer touchpoint:
Improved consumer service for more customer satisfaction
Ideal for promotions or other cash access opportunities
Cash Redemption Terminals
Premium
The Premium CRT elevates cash redemption to a whole new level of performance and style. Connect with your customers through one of the easiest to use and most powerful CRT's that combines speed, advanced graphics and all the key payment functions for your gaming floor. The Premium CRT delivers advanced payment technology with a stunning large edge lite screen and elegant design.
Mini
The ecash Mini CRT offers a cost effective redemption solution for the smaller gaming venues including AWP and VLT venues. The Mini CRT provides an ultra small footprint while maintaining key design gaming features designed to industry standards.
MORE INFORMATION ABOUT Ecash