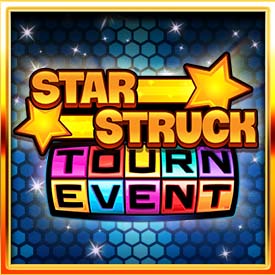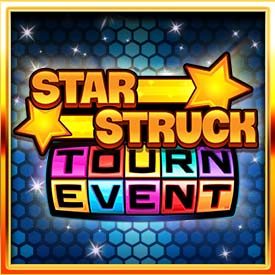 Star Struck
Star Struck is one of Everi's latest out-of-revenue titles that is available in both group style TournEvent® and the "sit-and-go" TournEvent Now® play on the Empire Flex™ and Empire MPX™ portrait cabinets. The theme is also available on TournEvent Winners Circle™, a thrilling new dedicated premium bank for championship round play. Star Struck on TournEvent Winners Circle will wow players with its heart-pounding background music from C+C Music Factory's disco hit "Gonna Make You Sweat (Everybody Dance Now)" which is synchronized to the bank's lighting and screen graphics for an incredible full sensory experience.
GAME OVERVIEW
Game Type: Video
Class Availability: Class III, Class II
Reels: 3
Lines: 5
Approval Date: Q3 2021
GAME DOCUMENTS
Game documents are available for registered users.
Please
request an account
or
login
.
All efforts have been made to ensure these figures are accurate and correct, however Everi Games cannot accept responsibility for the absolute accuracy of the final figures. Everi Games cannot accept responsibility for the absolute accuracy of these volatility rating estimates. Volatility rating estimates, artwork, descriptions, game play, and other product details depicted above are subject to change. Italicized text indicates trademarks or registered trademarks of Everi Games and/or its affiliates in the US and/or other countries. Additional conditions apply. Everi Games reserves the right to amend or discontinue this offer at any time. AVAILABILITY OF ALL OPTIONS IS SUBJECT TO SPECIFIC JURISDICTIONAL APPROVAL.
©2020 Everi Games Inc. All rights reserved.