Michael D. Rumbolz
Executive Chair of the Board
Before transitioning to Executive Chair of the Board, Michael D. Rumbolz served as our Chief Executive Officer from April 2020 until April 2022, having previously served as our President and Chief Executive Officer from May 2016 through March 2020, and our Interim President and Chief Executive Officer from February 2016 to May 2016. From August 2008 to August 2010, he served as a consultant to the Company advising upon various strategic, product development and customer relations matters. He served as the Chairman and Chief Executive Officer of Cash Systems, Inc., a provider of cash access services to the gaming industry, from January 2005 until August 2008 when the Company acquired Cash Systems, Inc.
Mike also has provided various consulting services and held various public and private sector employment positions in the gaming industry, including serving as Member and Chairman of the Nevada Gaming Control Board from January 1985 to December 1988. He is also the former Vice Chairman of the Board of Casino Data Systems, was the President and CEO of Anchor Gaming, was the Director of Development for Circus Circus Enterprises (later Mandalay Bay Group) and was the President of Casino Windsor at the time of its opening in Windsor, Ontario. In addition, Mike is the former Chief Deputy Attorney General of the State of Nevada.
Mike currently serves as a Director of Seminole Hard Rock Entertainment, LLC and a Director of VICI Properties Inc. (NYSE: VICI).
---
Randy L. Taylor
Director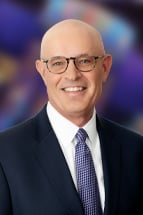 Randy L. Taylor became Chief Executive Officer on April 1, 2022, having previously served as the Company's President and Chief Operating Officer, the Company's Executive Vice President, Chief Financial Officer and Treasurer since March 2014. Randy started with the Company in November 2011 as Senior Vice President and Controller.
Before joining Everi, Randy worked at Citadel Broadcasting Corporation for 10 years in an assortment of finance roles, including Chief Financial Officer and Principal Financial Accounting Officer.
Randy also worked in a variety of finance positions in the gaming industry with Showboat, Inc, Aladdin Gaming, LLC and Bally Technologies starting in late 1994.
Although a native of Nevada, Randy received a Bachelor of Science in Accounting from the University of Denver and began his career in public accounting with KPMG in Denver Colorado in July 1984. He returned to Nevada in November 1990 with KPMG and began serving gaming and non-gaming clients.
---
Geoffrey P. Judge
Director, Nominating and Governance Committee Chair
Geoff Judge has served as a member of the Board since September 2006. Mr. Judge is a Venture Partner at iNovia Capital, a manager of early stage venture capital funds. He has been with this venture firm since 2010 and has been an active private equity investor since 2002. From 2003 to 2005, he was an investor in and the Chief Operating Officer of Preclick, a digital photography software firm. In 2002, he was the Chief Operating Officer of Media Solution Services, Inc., a provider of credit card billing insert media. From 1997 to 2002, Mr. Judge was a co-founder and Senior Vice President and General Manager of the media division of 24/7 Real Media. From 1995 to 1997, he was a Vice President of Marketing for iMarket, Inc., a software company. From 1985 to 1994, Mr. Judge was a Vice President and General Manager in the credit card division of American Express.
---
Linster W. Fox
Director, Audit Committee Chair
Linster Fox has served as a member of the Board since May 2016. Mr. Fox served as Executive Vice President, Chief Financial Officer and Secretary of SHFL Entertainment, Inc., a global gaming supplier, from 2009 up until the company's acquisition by Bally Technologies, Inc. in November 2013. He has also served on the Executive Advisory Board of the Lee Business School at the University of Nevada-Las Vegas from 2015 to 2016, served as interim Chief Financial Officer of Vincotech in 2009 and as Executive Vice President, Chief Financial Officer and Secretary of Cherokee International Corp. from 2005 to 2009. He has also served in a variety of executive roles over the course of 18 years at Anacomp, Inc., including Executive Vice President and Chief Financial Officer and as a member of the company's Board of Directors. He began his career as an accountant at PriceWaterhouseCoopers LLC, is a Certified Public Accountant and has a B.S.B.A. from Georgetown University in Washington, D.C.
---
Maureen T. Mullarkey
Director, Compensation Committee Chair
Maureen T. Mullarkey was appointed to the Board in March 2018. Ms. Mullarkey is a private investor and also serves on the Board of PNM Resources, Inc., as Chair of the Audit and Ethics and member of the Nominating and Governance Committees. PNM is the electric utility in the State of New Mexico. From 2008 through 2013, Ms. Mullarkey was a director of NV Energy, Inc. until the company was sold to Mid-American Energy Holdings Company, a subsidiary of Berkshire Hathaway, Inc. a. She was also an Entrepreneur in Residence with The Nevada Institute for Renewable Energy Commercialization from 2009 through 2011.
In 2007, she retired from International Game Technology (now International Game Technology PLC), a leading supplier of gaming equipment and technology, where she held a variety of financial and executive management positions in her 18 years with the company. Her last position with International Game Technology was that of the Chief Financial Officer and Executive Vice President, a post she held from 1998 through 2007.
Ms. Mullarkey has a B.S. from the University of Texas and an M.B.A. from the University of Nevada.
---
Atul Bali
Lead Independent Director
Mr. Bali joined the Everi Board in 2019. He currently serves as Chairman of The Football Pools Ltd, the oldest pool betting organization in the world and Instant Win Gaming Ltd., a provider of mobile instant win games to state lottery operators in Europe and North America. In addition, Mr. Bali is an investor in, and advisor to, a range of privately held lottery, sports betting, igaming and fintech businesses. He also serves as a director on the board of Rainbow Rare Earths PLC, a UK listed producer of Rare Earth Metals with operations in South Africa and Burundi.
Having qualified as a Chartered Accountant with KPMG, Mr. Bali joined GTECH Corporation (now IGT) in 1997, and over 13 years held various executive positions, including President and CEO of GTECH G2. Subsequently, he served as CEO of XEN Group from 2010 to 2012 and thereafter in divisional President & CEO roles at Aristocrat Technologies Inc. from 2012 to 2014, RealNetworks, Inc. from 2014 to 2015, Gaming Realms PLC where he served on the board of directors from 2014 to 2018 and held the position of Deputy Chairman from 2015 to 2018 and Chairman of the Board of Meridian Tech Holdings Ltd from 2016 to 2021.
---
Secil Tabli Watson
Director
Ms. Watson has more than 25 years of experience in early start-up, large corporate and management consulting environments with deep understanding of digital, banking and financial technology. Until March 2021, as Executive Vice President and Head of Digital Solutions at Wells Fargo, she was responsible for digital transformation and oversaw innovations in payments, cyber-fraud and customer experience, including enhancing the bank's capabilities in the areas of mobile, authentication, fraud prevention, open banking APIs and P2P payments. During her 18 years at Wells Fargo, she transformed the bank's digital operations, managed key enterprise digital channels for consumers, businesses and commercial customers, and managed product P&Ls. She will bring to the Board a global perspective, having managed globally dispersed teams, including working in various geographies such as Australia and the United Kingdom.
Ms. Watson is an independent director of Bank of Marin Bancorp and Bank of Marin, McLaren Technology Acquisition Corp., a Special Purpose Acquisition Company focused on acquiring fintech companies, and Landed, a start-up whose mission is to help essential workers own their homes, and she advises Fortune 500 and growth companies on digital transformation and product strategy. She is a long-time practitioner of Diversity and Inclusion workplace programs, an advocate for conservation, and passionate about creating great customer experiences that deliver both business and community value.
---
Paul W. Finch, Jr.
Director
Paul W. Finch, Jr. was the chief executive officer of Early Warning Services from 2003 to April of 2019. As a recognized financial technology innovator, he successfully guided Early Warning through several transformations, beginning with the transition to a bank-owned consortium model in 2006, and continuing with a series of strategic acquisitions and partnerships, including Austin Logistics, Authentify®, Payfone® and clearXchangeTM.
Under Finch's leadership, Early Warning consistently achieved year-over-year growth and expanded beyond its Scottsdale headquarters to include offices around the U.S. Finch is responsible for building an executive leadership team that has established Early Warning as the pre-eminent provider of real-time payments, risk and authentication solutions to financial institutions nationwide.
In 2017, together with financial institutions across the U.S., Early Warning launched Zelle® – the banking industry's first real-time payments network. In 2020, Zelle exceeded 1 billion payments processed annually and in the 3rd Quarter of 2020, the Zelle network moved more than $84-billion in consumer payments. From small community banks and credit unions to the largest national banks, more than 1000 financial institutions have joined the Zelle Network to date. And for more than 140-million consumers, Zelle is already available in their mobile banking app.
In 2017, Finch was named one of the 10 most innovative CEOs in Banking by Bank Innovation magazine.
Finch began his career in the payments industry as the founder and CEO of ACH Systems, an electronic payment technology outsourcing company specializing in the processing and settlement of U.S. ACH transactions. Subsequently, he headed global operations, technology and customer support at eFunds corporation.
Finch holds a bachelor's degree in business administration from Northern Arizona University. He is the president of the Finch Family Foundation, a non-profit organization in Phoenix dedicated to serving children and families in need.
---
Debra L. Nutton
Director
Ms. Nutton is currently an Executive Coach and Gaming Consultant. Her extensive experience in the gaming industry spans over four decades. She served as Executive Vice President of Casino Operations for Wynn Las Vegas from 2013 until 2018, at which time she consulted during the pre-opening of Wynn's new property, Encore Boston Harbor. After its successful opening in 2019, she then became an advisor to the pre-opening team at Resorts World Las Vegas, which opened in 2021.
Before joining Wynn Las Vegas, Ms. Nutton held positions of increasing responsibilities at MGM Resorts, completing her time there as Senior Vice President of Casino Operations.
She is a former member of the Advisory Board for the Global Gaming Expo ("G2E") and served as an original board member for Global Gaming Women. She is also on the Advisory Board of the non-profit, U-Ryze, which offers coaching to the under-served. Ms. Nutton's passion for the gaming industry and meaningful contributions were honored by Global Gaming Women with the 2018 Great Women of Gaming Lifetime Achievement Award.
Class Designation Chart
| Class | Directors | Term Expiration |
| --- | --- | --- |
| I | Atul Bali, Paul W. Finch, Jr., and Randy L. Taylor | 2024 Annual Meeting of Stockholders |
| II | Geoffrey P. Judge, Michael D. Rumbolz, and Debra L. Nutton | 2025 Annual Meeting of Stockholders |
| III | Linster W. Fox, Maureen T. Mullarkey, and Secil Tabli Watson | 2023 Annual Meeting of Stockholders |
Committee Composition
Below is a summary of our committee structure and membership information. To read more about any of the committees, click on committee names in the chart below.